Amergy Solar- A Long Term Partner
Amergy Solar has been installing residential solar systems since 2009 and we utilize our 8 years of experience during every installation. We believe the future of alternative energy rests in our simple and accessible solar power systems. Over the years, our experienced project management teams have led over 9,000 homeowners and 300 commercial and government entities through the financing and installation process. We provide affordable solutions to help homeowners and businesses lower energy costs and protect the environment. Since 2009, Amergy has saved our customers $9.6 million dollars and counting, something we take great pride in.
5,138 Happy Customers and Counting
Amergy Solar is a top solar installer, with more installations in some markets than anyone else. 90% of solar installations in Staten Island, NY are Amergy Projects and we are expanding into other markets faster than any other solar installer. Our customers trust us, because they know we will protect their home. We use the highest quality installation techniques because we believe in adding value to a home with solar.
Going Solar with Amergy
This family on Staten Island made the decision to switch to solar energy in 2017 with Amergy. When they signed up with us, their bill was anywhere from $140-$400 per month and their annual usage was about 15,000 kWh.
For this family, spending $3,000 a year on electricity was no longer acceptable. They purchased a 13.6 kW system from Amergy, and took advantage of the Federal Tax Credit, NYS Personal Tax Credit, NYC Property Abatement and NYSERDA Rebate. Now they are paying less for their loan, then they previously paid Con Ed (about $30 less per month) and in 12 years they will own the system outright and pay nothing more for the electric produced.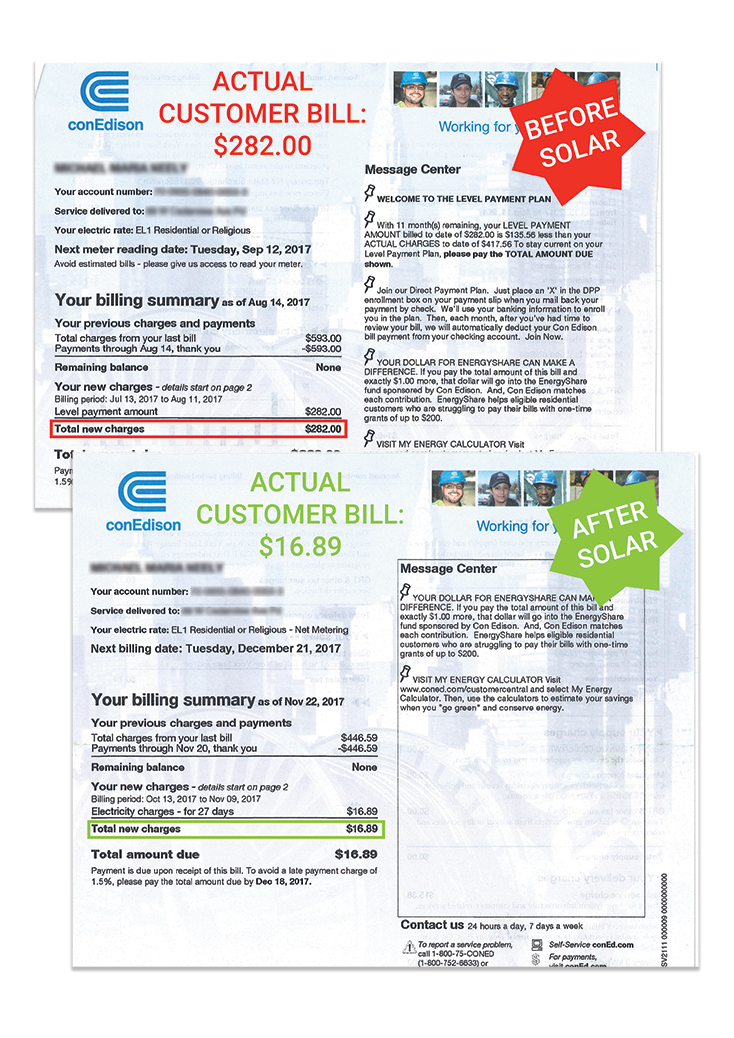 "It feels good to know that I'm helping the environment & hopefully many more people will consider the long term benefits for our future. On a scale of 1-10, they are a 10! The sales rep was great from day one. This company is really going somewhere. Everyone I know who has done it is very happy. It's so easy and sounds too good to be true. So far, I'm telling you, I'm happy. I'm happy I did it. When I did it, I haven't had any issues."

Step 1: Proposal & Agreement
Amergy Solar creates a proposal of the offer including an average monthly lease payment, the 20 year savings estimate, and a detailed explanation of the solar process. The program coordinator sits down with each homeowner to discuss the proposal and answer any questions.

Step 2: System Design & Engineering
During the proposal discussion, our trained coordinator also presents the original layout of the solar panels to be signed by the homeowner. Once the paperwork is signed, you have completed step one in the process.  Next, we schedule an appointment to survey the attic for final measurements before the final layout is drawn to scale.
Our engineers and design team take all of your placement suggestions into consideration.

Step 3: Solar Panel Installation
One of our greatest strengths is that we complete the majority of our installation work within one day. In some of our installation locations, we must follow proper legal procedures for two-day installation. Thus, when permits are ready and your electrical provider approves of swapping meters, we bring all materials to the site and install in a quick and easy manner. Most systems go from contract to installation within 45 days.

Step 4: Switch System On
Once a system is installed and completes all necessary inspections and approvals, we are able to turn on the solar system. The system begins producing clean sustainable energy. The entire process from start to finish takes approximately three to six months.
Plan for the Future
Make the change to solar today and save big tomorrow.